Master Coach and Author
Master Certified Coach Timi Gleason is the Founder of Executive Goals.  Timi's leadership experience comes from leading in Fortune 500 and 200 companies where she was a senior HR Operations leader and managed multiple geographical locations and diverse employee populations.  She also has experience with local and federal government agencies and several medium sized family-owned operations.  She has strong cross-functional industry and business acumen.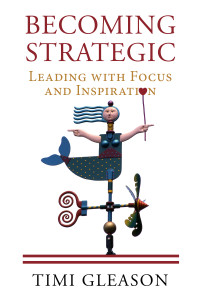 Author
Timi is the author of the Amazon business book:
Becoming Strategic: Leading with Focus and Inspiration (2015). This is an updated version of her popular book: Coach as Strategic Partner: A Survival Guide for Leaders and Their HR Business Partners (2010)
(learn more or purchase)

Philosophy
The Executive Goals philosophy emphasizes fact-based decision making with special emphasis on execution and promoting cross-functional results.  The hallmark of the Executive Goals philosophy is to develop poised leaders who remain influential and focused under pressure.
Hot Heads Welcome in All Time Zones
You can send all your super stars who are Team Disruptors, Bulls in a China Shop, and Elephants in the Room to Coach Timi. Are your people time-zone fighting, struggling with cultural differences, or stuck in tactical thinking? If so, let's discuss how to align and focus your team's productivity.
Professional Certifications
Timi obtained her Executive Coaching Certification from B-Coach, LLC, her Master Coach designation from Career Coach Institute, and has completed the Marshall Goldsmith Stakeholder-Centered Coaching curriculum.  She has a background in NLP (neuro-linguistic programming), Health Coaching, Retirement Coaching and has professional certifications in Commercial Design and Creative Problem Solving.  These augment her persuasive and planning skills. Her education in organizational development theory through B-Coach LLC and 15 years of industry experience makes her approach uniquely practical, sophisticated and results driven.
International Affiliations
Executive Goals is affiliated with a network of quality teams that provide coaching services internationally. We can provide coaches wherever you are. For quotes and programs, please contact us.
Coaching and Assessments
Timi uses hand-selected assessments to customize leadership development and self-awareness opportunities for her senior professional to C-Suite level clients. Her solutions are affordable and practical for both individuals and teams. Impatient for results? Ask us about our 24-hour turnaround!
The Mind-Body Connection
Timi is a part-time health practitioner using the Biomedx Flow Analysis process.  This simple, affordable health assessment uses a root-cause approach to evaluate health challenges and recommend their solutions.  Specialty areas include anger management and strategies for reversing health complications caused from stress on the job. Are you a high achiever who is struggling to stay healthy? If you would like to improve how you sleep and feel, let's talk.
Confidentiality
Services are confidential and terms are negotiated openly and transparently with all parties before starting.